Enhancement
                                                                                                                                                                                                                                                                                                            July 03, 2020
PO Print Config – Date Format
Objective: To provide a date-format configuration for PO print.
Feature: An intuitive Date-formatter was provided. It has a drag & arrange feature making it easy & intuitive for the user to format their Date string to be printed. A live Preview section is provided too.

Limitation:The changes made are applicable to PDF generation only.
Data Erase Option
Objective: To provide for erasing data that was fed in as part of Demo/Trial or if the user wishes to start afresh.
Feature: Now the User can choose when to Erase their Data with xserp.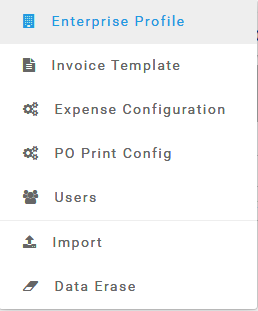 For new Users, a menu 'Erase Data' will be available in the Configuration menu (until they are less than 30 days of age in xserp).
For Existing Users (any Enterprise whose age is more than 30 days), Data Erase option will be enabled only by request. It will not be available by default. This is to avoid any accidental deletion. Once requested our Support personnel will contact the User within 2 days & will make the 'Erase Data' option available for the duration requested by the User.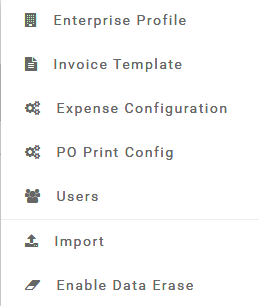 Once 'Erase Data' is clicked, the User will be presented with two options:
Clear All Transactions – will erase all Transaction data that includes Invoice, Vouchers, Purchase Receipts and the likes, but will keep all profiled information (like Item Profiles, Party Profiles, Price Profiles, etc.), if any, intact
Reset All Data – Wipes all Data & resets the Enterprise to a clean-slate.

Limitation: Users cannot revoke any Data that was Erased, i.e., the system doesn't yet provide any Archiving option. Data once erased is lost forever (almost).
Consolidated BoM Shortage List
Objective: To enhance the existing Shortage List Report to account for overlapping requirements.
Feature: UI has been revamped to accommodate the enhancements. It has a feature to arrange the items chosen, before querying for Shortage. The filter part now includes order of preference to calculate the Shortage.

Moreover now Items for which Orders were placed shall also be considered for the shortage calculation.
The report will be a Material Item requirement for all the BoMs chosen & a cascade of Shortages for the same in the chosen order, along with the consideration of Purchase Order yet to be fulfilled


Limitation: Production plan is not accommodated in the schemes yet.
Other Minor Changes
This release features quite a few minor & under-the-hood changes, which are listed below.
Included Currency in the BoM Costing Sheet.
Changelog has been provided for Material Profile.
Bugs Fixed
Total Bugs fixed: 25
Bug ID
Summary
Priority
Severity
Accounts
5355
[Voucher] – 0.01 difference between debit and credit value in sales voucher
High
major
9451
Voucher has not been created while rejecting the approved status invoice where issue on date changed
High
major
4027
[Auto voucher] Amount mismatch in Purchase voucher due to compound tax values
High
major
8925
Space between word is not displayed in column name of GSTR-2 Purchase Report page
Normal
normal
Change log
8760
Updated PRIMARY CONTACT details are not tracked in the Activity Log
High
major
8155
BANK LEDGER selected information is not captured while changing from Sales to Bank voucher type in the Change Log
High
major
8726
Save enterprise configuration and verify the change log doesn't displayed for indent and auto generated voucher
Normal
major
8754
Change log message need to be corrected when registration detials are added/ deleted / updated
Normal
normal
Configuration
9269
[Purger Data] – All transactions were not cleared when clear transaction is clicked
High
critical
8939
[Bulk import] – Instead of xlsx, xslx gets displayed in the warning popup when wrong file is imported
Lowest
trivial
Mobile
4967
In mobile expenses module, in approved tab , click on expenses and click on bill , popup displayed should be enhanced
Normal
normal
Profiles
9194
BOM is not imported
High
major
Purchase
8982
PO Custom Reports Rework – Remove tax module
High
major
Sales
9275
[OA]Material received popup not displayed in fixed modal.
High
major
9480
[OA] Contact detail – Email is wrongly displayed as phone number in OA document
High
major
9260
[Invoice/DC] – Instead of records with pending status, last 30 days records only gets displayed when module batch count clicked
High
major
9299
"Total * includes all field" is displayed when No Matching Results Found in the Material Report page
Normal
normal
8034
"Total * includes all field" is displayed when No Matching Results Found in the Tax Report page
Normal
normal
9278
[OA]while adding party DC material popup not displayed in fixed modal.
Normal
normal
8033
[Invoice] – Windows warning pop up gets displayed instead of application warning pop up when duplicate non stock material added
Normal
normal
Stores
8996
[GRN] – Unable to update qty more than available qty when goods already checked
High
major
7859
[GRN – DC] MSL warning message is not displayed when inward date is updated
High
major
6672
In manual note creation page, when invoice number for which sales return GRN has been created is entered duplicate warning message should be displayed?
High
major
Universal
8929
OOPS error is getting displayed while surfing in the XSERP page
High
major
9221
UI Changes in Application Tour
Normal
normal
Known Issues and Planned Changes that will be delivered in subsequent releases shall be found here.