Enhancements
                                                                                                                                                                                                                                                                                                              Nov 13, 2019
Invoice Template – DC related options
Objective: To provide configurations specific to Delivery Challan print, as DC print too follows Invoice Template configurations.
Feature: Two DC related label configs are added in the Header tab:
'Delivery Challan' under the 'FORM NAME' section
'DC No' under the 'FIELD NAME' section
These two field labels will be applicable only for DCs.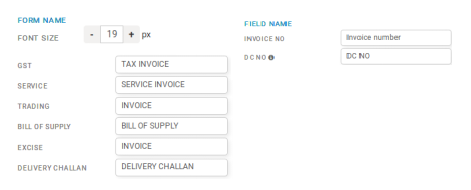 Mobile App – Force/Recommended Update
Objective:To intimate the Mobile App users of new updates available to the app & recommend them to keep the app updated, at times, enforce them to update the app to continue usage owing to backward-incompatible updates.
Feature: Whenever a new version of the XSerp Mobile app is available for update, existing app users will be shown one of the following pop-ups, depending on the nature of the Update released.
Recommended Update – Clicking on 'Update Later' will allow the user to access the app as it is while clicking on 'Update Now' will take the user to the PlayStore to update the app.
Forced Update – the user cannot proceed to use the app without updating the App.
Bugs Fixed
Total Bugs fixed: 10
| Bug ID | Summary | Priority | Severity |
| --- | --- | --- | --- |
| 7450 | [Mobile] Force Update / Recommended update | High | major |
| 7515 | [Invoice Template] Alternate row shading is not displayed in the 2nd page when user deselect the S.No field in Invoice template | Normal | normal |
| 7449 | [Enhancement]Bulk Notification | High | major |
| 7426 | [invoice template] Invoice number field name entered in invoice template should not be reflected in DC | Normal | major |
| 7438 | [Invoice template]Uncheck all checkboxes in item table and check again verify the item table is not displayed properly in preview | Normal | major |
| 7456 | [Material] – Add MPN pop up should not be displayed when add button clicked without adding make | Normal | major |
| 7427 | [Invoice Template] – HSN/SAC column name is overlapped on qty column when Party of item details checkbox unchecked | Normal | normal |
| 7430 | [Invoice Template] – In firefox, Material table row separator is not available after column names when Tax rate/amount checkbox unchecked | Normal | normal |
| 7453 | [Invoice template] Unit in Qty column overlaps with row separator | normal | normal |
| 7469 | [Invoice template] Alternate row shading , shade displayed for authorized signature in the second page when CF/BF is disabled | Normal | normal |
Known Issues and Planned Changes that will be delivered in subsequent releases shall be found here.