Enhancement
                                                                                                                                                                                                                                                                                                         Mar 06, 2020
Invoicing Goods already Supplied
Objective: To provide for sending Invoices to Customers for Goods that have already been supplied as part of Sales. This is especially useful for those Enterprises that supply Goods continuously & raise Invoices for them in period cycles, say, monthly.
Feature: This enhancement demands changes across different sections – Invoice, Delivery Challan, Print Templates. They are explained below.
DC – will now have an OA multi-selection field placed next to the 'Return Date' field. It is similar in functionality for the OA No field in Invoice, enabling smart-population of Items agreed upon a Sale.

Invoice – will now have a check-box 'Goods Already Supplied' next to 'Tax applicable on Reverse Charge' check-box. Checking this flag will replace the OA No field with a multi-select DC No field named 'Supplied DCs'). It is a two-part filter field where the first half filters the FYs, the second half lists those non-invoiced DCs for the selected FYs.

Selecting the DCs shall open a pop-up with the items already supplied, but waiting to be Invoiced. The particulars are consolidated Item-wise & expandable to view DC-wise split-up. Items added below shall also have this consolidated view

Invoice Templates – too have corresponding changes in the Item Table configurations. The section will have a DC No configuration under the 'Item Details' section, just below the OA No settings. Once all details are enabled the Description/Details section shall be printed as shown. When items supplied via multiple-DCs are invoiced, configured details of all such DC's will be available for the Item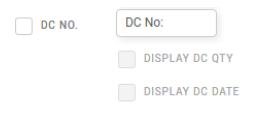 Purchase Order not Mandatory anymore
Objective: To enable recording Purchase Invoices without having to have placed a corresponding Purchase Order against the Party.
Feature: In GRN, the Received Against option 'Purchase Order' is renamed as 'Purchase'

In the Configurations Page → General Info → Features section, a new Flag 'Purchase Order Mandatory' is provided for. Said feature will be available by default for existing User Enterprises, but not for new Enterprise sign-ups.

If enabled, the functionality is the same as the current one, i.e., recording Purchase details in GRN against 'Purchase Order', and if it's disabled, the GRN against Purchase will now have an add Item section, similar to the ones available in Invoice, OA modules.
Limitation: Only profiled Material Items shall be added now in such GRN against Purchase.
BoM Costing
Objective: To provide a downloadable costing sheet for a Product, profiled with BoMs.
Feature:In the 'Bill of Materials' section of the Material profile edit page, a new button 'BoM Costing' has been placed to the left of 'Import' & 'Export' buttons. The button will open a pop-up of the BoM Costing report, with details fetched based on 'Recent Valid & Cheapest Prices' profiled against different Suppliers. This Pricing sheet follows the same logic as in the Indent-PO bucket construction.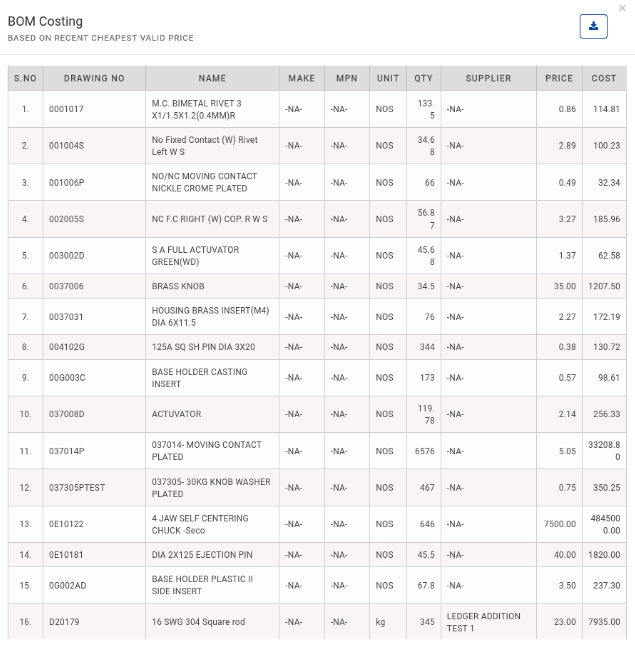 Limitation: The pricing logic is limited to Cheapest valid, none of the alternate parties/prices form part of the report. Such information will be added to the report in subsequent releases.
Other Changes
Issue Document – Now an option to generate documents is provided for Issues. Invoice Template changes will be reflected in these documents as well
Mobile Changes – Logo has been upgraded to the new one.
Bugs Fixed
Total Bugs fixed: 16
| Bug ID | Summary | Priority | Criticality |
| --- | --- | --- | --- |
| 7252 | In invoice edit page OA popup, pending Qty displays wrong Qty | High | major |
| 8014 | [Invoice] In invoice edit page, view OA materails pop up doesnt display materials with pending Qty | High | major |
| 8038 | In edit DC page material returned button should be displayed only when DC has atleast one returnable material | High | major |
| 8056 | INvoice PDF doesnt display material when invoice created by adding same material and different HSN | High | major |
| 8229 | [Delivery challan],Item invoiced button not displayed in the approved DC. | High | major |
| 6900 | [Voucher] – Save button turns processing and remains like that when GV changed to BV with duplicate BV number | Normal | major |
| 8118 | IN indent po page, when supplier bucket is splitted the supplier bucket is displayed under others panel | Normal | major |
| 8138 | In general po add page, when indent number is selected material others tab should be hided | Normal | normal |
| 7420 | [Invoice] – Materials are not removed when customer is changed and OA number is removed from the drop down | Normal | major |
| 7454 | [Invoice] – Delivery address and GSTIN is not auto populated when selected new party is profied with address | Normal | major |
| 7433 | Only customers gets displayed in the Customer drop down in invoice add page | Normal | normal |
| 7435 | [Invoice] – Warning pop up is not displayed when issue date is selected as past date to Po date | Normal | major |
| 8047 | [OA] – List grid should display as per prepared on date | Normal | major |
| 8059 | In JDC add page when jo is selected PO date feild should display PO date of the selected JO | Normal | major |
| 8178 | Indent pending report displays wrong GRN Qty when multiple PO and JO raised for same indent | Normal | major |
| 8167 | Label name is displayed "Supplier Name" instead of "Issued To" in the Internal Stock Flow report | Low | normal |
Known Issues and Planned Changes that will be delivered in subsequent releases shall be found here.